It's been very quiet in my blogging world lately---both here and on the blogs I visit.
Wonder why I haven't commented on your blog lately?
I just figured it out today.
A few weeks ago, Todd and I were trying to figure out a way for streaming video to come in faster on our computer. We found a bunch of spyware-type stuff on our pc, so we cleaned house and altered a few settings. One of those was our setting for cookies.
Not being a computer guru, it has taken me a few weeks to figure out that Blogger doesn't like it when you don't let them set cookies. As in, I haven't been able to leave comments on other blogs. And comments haven't come in here.
So if you think I didn't care about what you posted, that's not true.
It's that I went too long without cookies.
Come to think of it, isn't all life a little rough without cookies? Both chocolate-chip
and
computer type. :)
* * * * * * *
Life has been very full and good as of late.
Everyone managed to come through the weeks of sickness, thank goodness.
Micah had his blood work done on Friday to test for food allergies. We'll get results this coming week.
(My personal hope? That the weird bits of unwell he's experienced this past year are due to a food allergy. Because that's something I can control.)
Professional happiness came to me on Friday. One of the children I work with for dyslexia "graduated" from the level we've been working on since September. Moreover, she tested two grade levels higher on her Reading Inventory. (For the non-teachers, that's
huge
.) She's worked so hard, and it's paying off!
I have a new project on the horizon.
Any ideas what these are?
(Hint---think about what they'd look like if they were not cut up into tiny pieces.)
Time's up!
I am now the proud owner of approximately 1,500 Fiestaware mosaic tiles! I'll be incorporating these into some really wide joints in the chimney that passes through our upstairs hallway. I've also been trying to figure out a way to create a backsplash for the wall behind my kitchen sink. It's a tricky area because the wall isn't flat. We need to work out the particulars, but I think these tiles will be just the thing.
When I first had the idea to use Fiesta as a mosaic, I wasn't sure how it would look or if other people would like it. And then I decided, it doesn't matter what other people think. It's my house. It won't be sold for a really, really long time. And it will give the young woman who buys it a great story to tell about the lady who lived here who was crazy for Fiestaware.
For now, I'm absorbing ideas about color and form.
If any of you have experience with mosaics, I'd love to hear your thoughts.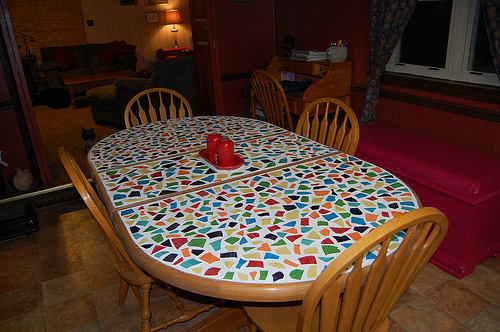 (credit: www.casasugar.com)
(credit: www.graniagrace.wordpress.com)
(credit: www.cacmosaicdesigns.com)